Whether you're new around here or a long-time reader, welcome! My husband Josh and I have been renovating our 1952 home for the past 4 years, almost entirely on our own. We're tackling the entire basement for this spring's One Room Challenge (ORC), and it's the final project we need to complete to call our home renovation completely finished! Over the next 8 weeks, I'll be sharing the progress of our basement remodel on my Instagram and here on the blog as part of the ORC, a nation-wide event involving hundreds of other designers and home renovators. Be sure to check in on the ORC's blog page to follow along with all of the other projects going on!
Disclosure: I received complimentary materials from Build.com as compensation for this and other posts. All views and opinions expressed in the post are my own and no other compensation was provided.
We're halfway to the end of the ORC! In just one month from now, I'll (hopefully!) be revealing our finished basement. It's so crazy to think that it's finally that close, after we spent almost a year in the major construction phase! As always, I'll start by reminding you of our goals for the previous week and an update on what was accomplished:
Goals for Week 3:
Finish drywall mudding and taping (hired out) – DONE
Finish installing durock shower surround and plumbing shower- DONE
Tile the bathroom (?) – not done. Maybe next week!
Paint walls and ceiling (hired out)- DONE
Maybe buy trim and doors?- doors ordered!
Here's where we're at currently: a freshly painted basement!
Here's a closeup of the bathroom, after the plumbing was finished, durock installed, and waterproofing done:
As you can see, it was another productive week! Because the drywall and paint is complete, we can install all of the electrical fixtures: switches, outlets, and lighting. I thought this would be a great opportunity to discuss the lighting and electrical plan that we developed for the basement. If you're undertaking a remodel project involving installing new wiring, this is for you.
Switches and outlets are a big investment, but they're one of those things that once they're done, you won't have to change anything for years (maybe for life)! My advice is to choose wisely, and don't cheap out on these. They can be a huge eyesore, or they can blend seamlessly into your walls AND have the added bonus of making your life easier with some fancier features.
We got all of our switches and outlets on Build.com. They carry tons of options for electrical fixtures, from switches to outlets to an endless assortment of lighting. The Legrand brand has a wide variety of switches and outlets, from standard to high-tech, in multiple finishes. You can purchase the faceplates separately, which allows for multiple different style combinations. If you're overwhelmed, Build.com has knowledgeable project experts to help you find exactly what you need to succeed with your project. The best part is, you don't have to hunt them down in a huge big box store- they're are available by phone, email, or chat every day of the week.
Here's a little breakdown of what we chose for the basement, and why!
Disclaimer: I am not a professional lighting designer or electrician. If you have specific questions about lighting placement, I would recommend consulting a professional.
Codes & Outlet Planning
Disclaimer (part two): code regulations vary from city to city and state to state. If you're not sure of your local code and permit requirements, check with your local inspection office prior to removing or installing any new electrical work (including outlets and switches).
To save some money, we decided to do our own electrical work. (Josh had done the electrical work in the rest of the house so he knows what he's doing- it's just a matter of time vs money to hire out!) As is required, we pulled permits and therefore have certain code requirements to meet. Like I had mentioned, every city is different, so check your local codes if you're going to attempt to DIY. The city of St. Paul has a handy guide of what is required for a rough-in and final inspection. Chances are decent that if you live in a larger city, there might be some guides on the inspections website, too!
The city of St. Paul code says, "receptacle outlets in habitable rooms shall be installed so that no point measured horizontally along the floor line in any unbroken wall space is more than 6 ft. from a receptacle outlet." Based on this, we could determine how many outlets were legally required, and how many extra we wanted.
With that in mind, we mapped out outlet placement in each room. We discussed furnishing each space and how outlet placement would be most functional. For example, in the bedrooms, we mapped out the most logical places for a bed and other furniture and installed the outlets on what would be either side of the bed. In the living room, we put outlets above the bar area, behind the bar (for our beverage fridge), on every wall, and inside the built-ins (for TV/modem hookup).
I drew a crude sketch of our basement and mapped out outlet and lighting placement. (It hung out in the construction zone for quite a while so it got a little dirty!) The plan ended up changing a little bit since this drawing, but this is still the general design.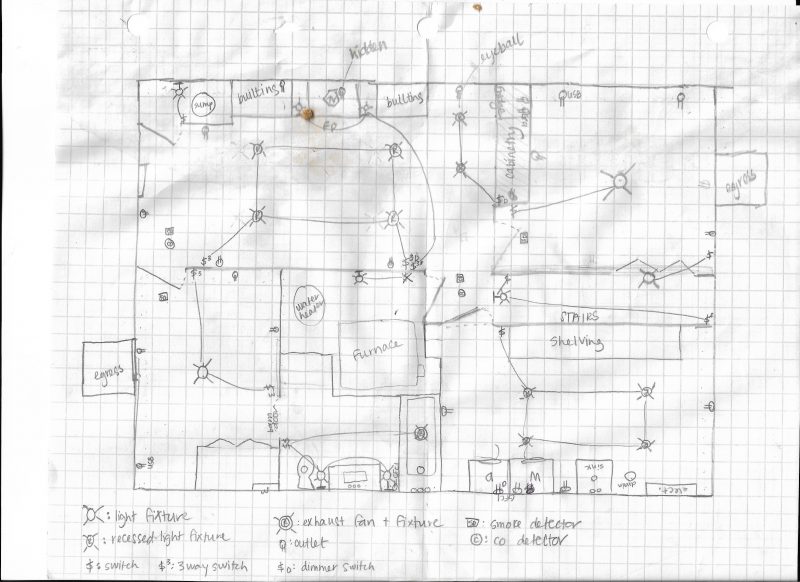 Outlets
These are the outlets we'll install throughout the majority of the basement. They're standard white, but more modern and crisp-looking than your standard builder-grade outlets. They're also tamper-resistant, which is a code requirement. In many homes that were built before tamper-resistant outlets were required, people have to go through and install those little plastic baby-proofing outlet covers in each outlet. You won't have to do that with these outlets, since there's already a protective plastic piece inside that prevents anything other than a cord from being inserted. Fun fact: did you know that the correct way to install outlets is actually with the ground ("mouth") above the prongs?
GFCI Outlets
We installed a GFCI outlet in the bathroom, since electrical code requires that GFCI outlets be installed in any place that could be exposed to water. I loved that the outlets in the Radiant line from Legrand are sleek and all-white, as compared to the GFCIs you see with red and black buttons that stand out like a sore thumb.
USB Outlets
How many of you use a power strip to plug in your phone charger in your bedroom, since you have other things plugged into your outlets? (*raises hand*) Well, that won't be the case in our basement, because we're installing these bad boys in each bedroom and one in the living room by the bar area. Hello, more plug-in space!
Pop-Up Outlet
In our bar area, we wanted something that would be accessible but subtle, because we knew it wouldn't be used very often. This popup outlet was the perfect solution. It has two plugs, but can be pushed into the wall when not in use, making it extra safe for kids rooms, or for the space that you might not need something constantly plugged in.
Recessed Outlet
We're wall-mounting a TV above the fireplace and plan to hang it as flush to the wall as possible. With that in mind, this recessed outlet is the perfect solution. It allows a cord to be plugged in so something can be flush to the wall. It would also be perfect for plugging a lamp in behind a console or sofa!
Switches
The majority of the basement will have these paddle switches for a smooth and low-profile on/off. It's personal preference, but I just like the look of a paddle switch a little bit better!
Dimmers
The wall sconces above the fireplace and the recessed lights in the living room will all be on dimmer switches. I loved the sleek profile of these switches, and the fact that they have an LED light that helps you find the switch when the lights are off. I can't count how many times I fumble around and feel the wall blindly in the dark and am excited that that won't be an issue down here!
Dual Switch
In the bathroom, we'll have a dual switch to control the lights and the bath fan. I like that this one is the width of a single switch, but has the function of a double switch.
Switch & Outlet Covers
I loved that in the Radiant line, the covers are square, sleek, and screwless (how do you like that alliteration?). They snap on easily over the fixture and they're a little bit wider than a standard cover, providing a little more forgiveness with rough sheetrock edges.
Lights
City code requires a light fixture to be installed in every habitable room, but we're installing an overhead fixture in every room (other than the bathroom). I wanted a simple flushmount fixture in each bedroom. We also installed a flushmount in the south bedroom closet, because it has deep under-stair storage.
In the bathroom, we are just installing two wall sconces on either side of the mirror. We skipped an overhead light for a few reasons: one, because it is painted white and is a small space, and two, the ceiling is filled with plumbing and wiring so there wasn't really any room for a fixture box!
The living room took more thought to plan out. We knew that we wanted to add ambience and function with layered lighting. We installed three 6″ recessed lights down the center of the room, spaced at 5′ apart. Above the bar area, we installed two 4″ recessed eyeball lights, centered in the middle of the cabinetry and pointing at the bar. Above the fireplace, we have two wall sconces, which not only provide additional lighting but create a cozy feel if the overhead lights are off or dimmed. All of those lights, recessed and sconce, are attached to dimmer switches. (Here's a helpful article on recessed lighting placement.) Finally, we'll be able to plug lamps into the outlets that are placed on either side of where a couch would sit.
Throughout the rest of the space, we just stuck with function (and the code requirements): there are two recessed lights in the laundry room, a light in in each utility closet, and one in the stairwell.
Take a peek at the lighting in my sketch below. You can see how we planned out the function of each switch as well- some lights can be controlled by two switches, while others just have one. Like I said before, things changed a little bit since I drew this out!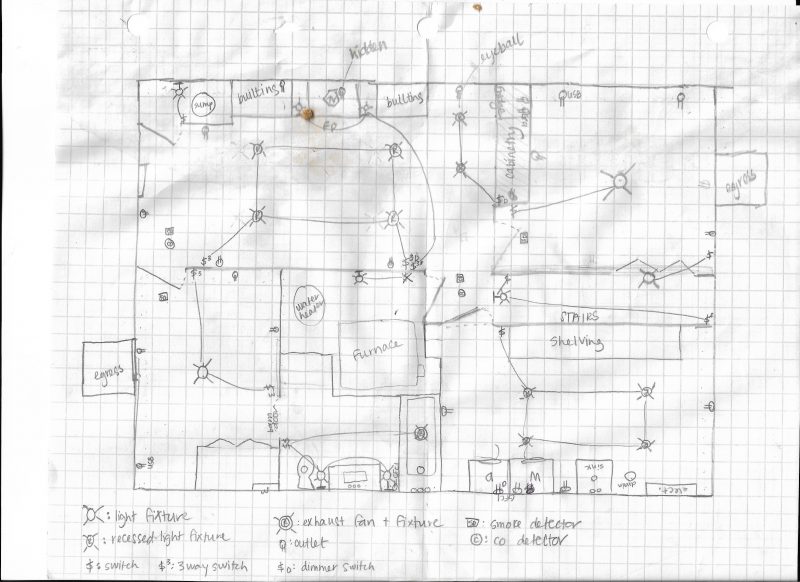 Next Steps
Now that the drywall and paint is done, we can continue pushing forward on everything else: it's finish work from here on out! This week, we hope to:
install all outlets, switches, and lights
tile the fireplace surround
tile the bathtub surround
tile the bathroom floor
finish framing and hanging drywall in the laundry room (we had to wait for plumbers to come out and fix our drains- which is done)
pick up the cabinets, doors, and trim
As of right now, we're still on track for the reveal. It's all coming together so quickly and I am so excited to share the reveal in just a month!
Shop the Sources

---