This post contains materials sponsored by The Tile Shop and Serena and Lily. All designs, styling, and thoughts are my own.
I'm so excited to be able to finally reveal the details of our finished basement bathroom! We started our basement renovation way back in January 2019, and after kicking it into high gear this last spring, we are finally DONE. (See the full basement reveal here!)
I had a few different design plans initially, but ended up finalizing these plans and it turned out even better than I'd dreamed! As a reminder, this is what it looked like before we started. At the point in this photo, we'd already replaced the main drain line and toilet drain due to a leak in the main drain line.
Here is what it looked like mid-demo:
…and after the concrete was repaired and framing was started:
The Plans
I wanted to create a space that felt the complete opposite of how it did when we started. My goal was to make it feel bright and modern with traditional, elegant accents. I used the same color scheme from the rest of our basement: white, grays/greige, black, brass, and navy blue. Here was the design plan:
And the end result!
The Tile
For the tub surround, I chose a large-scale 12 x 24 tile from The Tile Shop. It's a creamy white with gray marble veining and a matte finish. For the flooring, I chose a gray penny tile, also from The Tile Shop. It is a beautiful complement to the tub surround tile and ties into the gray marbling. It's a mix of grays- light, dark, and medium- and helps to warm up the space.
The Paint
The paint colors are the same as the rest of our basement: Extra White walls and Crushed Ice trim, both by Sherwin Williams. I painted the floating shelves Naval by Sherwin Williams to match the living room builtins – and the color is a very close match to the bathroom vanity.
The Accessories
I was lucky enough to partner with Serena & Lily to style the bathroom! I wanted to keep the styling neutral and classic with an emphasis on the navy and white accents. The white shower curtain with navy tassels, a navy knitted bath rug, and white and navy striped hand towels add just enough color to tie everything together. They're very high quality and the hand towels are so soft!
I also chose light gray bath towels. I'm not kidding when I say that these towels are SO luxurious and soft- I almost never want to use them, ha!
For additional accents, I added a small stool to set next to the tub and set a vase on top for decoration. It's very cute for styling and easy to move the vase and use the stool to set clothes or a towel or slippers on top of when you're using the tub!
A white tray with a gorgeously-scented candle and jar with some cotton balls is the perfect vanity addition.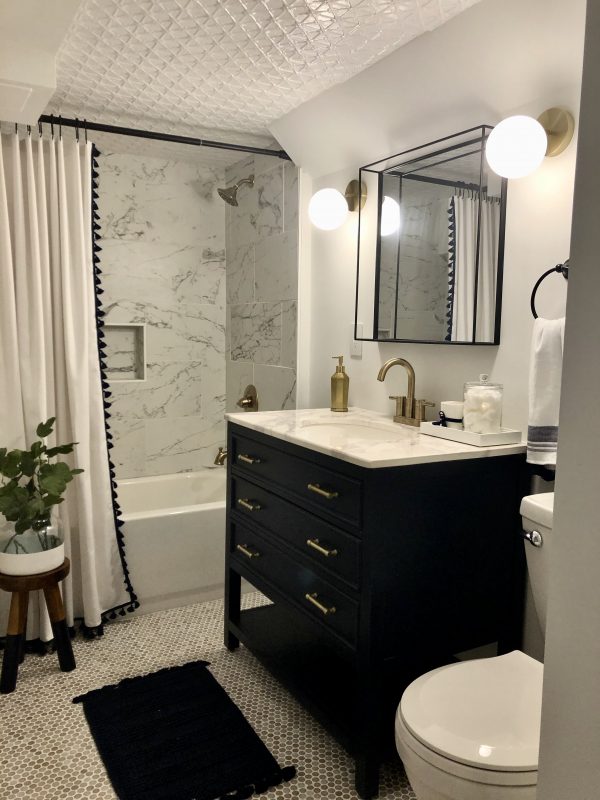 This bathroom is a far cry from where it started! It feels so much brighter and welcoming, which can be tough for a basement bathroom. Keeping the paint, tile, and decor light and neutral and coordinating was a huge help!
Shop the Sources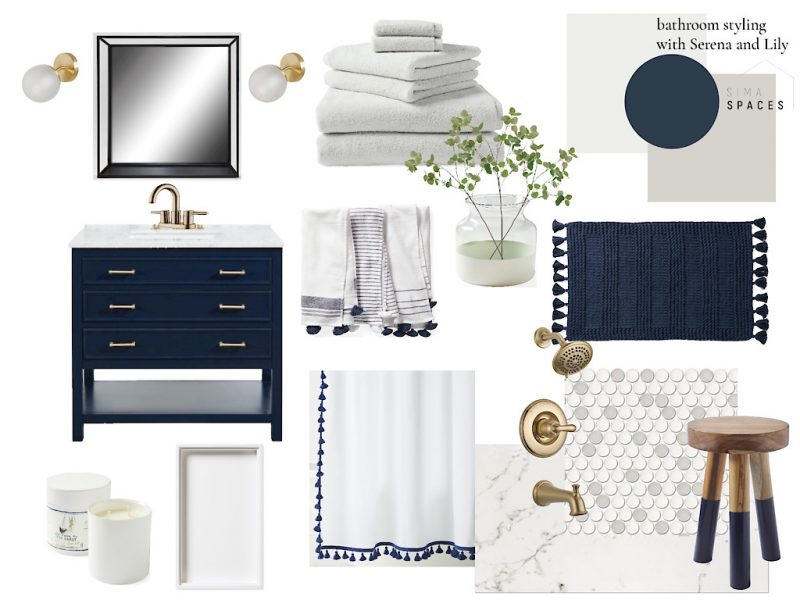 ---